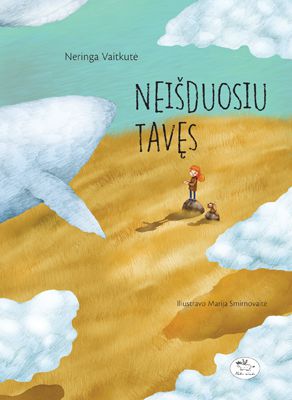 Kai sūnui skaičiau šitą knygą, labai dažnai pagalvodavau, kad gal be reikalo. Pagal tokį šviesų ir lengvą knygos viršelį labai tikėjausi šviesios ir džiugios knygos, ir visiškai suklydau, nes knyga niūri, tamsi, šalta (veiksmas vyksta kažkada, kai šalta) ir temos labai jau nelinksmos. Gal ir gyvenimiškos, bet gal kasdienybėj ir taip daug to gyvenimo…
Prieš tėvams išsiskiriant, tėtis dukrai padovanoja žaislinį šuniuką, kuris tampa ištikimas mergaitės draugas – visur kartu nešiojamas ir tampomas. Jis visas nutriušęs ir nešvarus, bet kiekvienas šuniuko "brokas" Augustei sukelia mielus prisiminimus, su kuriais ji jokiais būdais nenori skirtis. Ir štai žiežula (tiesiog nelaiminga) mama, išmeta žaislą ir vietoj to dukrai pasiūlo tokį pat naują. Išdavikiškai naują. Augustė iškeliauja ieškoti sanojo žaisliuko. Kelias nelengvas, argi  galėtų kitaip būti keliaujant į savartyną?
Skaitydama, žinoma, visą laiką galvojau, kaip knyga baigsis. Labai tikėjaus, kad ne lietuviškai tragiškai. Tai džiaugiuos rašydama, kad pabaiga knygą ištraukė. Labai gera pabaiga, o su gerom pabaigom būna autoriams kartais sudėtinga. Taigi užskaitau. Pabaigą, bet dar kartą knygos skaityti nenorėčiau.